End to End Mobile App Design
Mobile app design is a broad category that can include everything from the initial conceptualization to wireframing and prototyping. Along the way, effective app design will leverage creative vision, graphic design, market research and technical thinking, among other skills. It's only when these various teams and pieces work together that you end up with a product users will love and stick with.
It's for this reason that it's important to trust your mobile app design to a team with the in-house skills necessary to do it all. At Wve Labs, we specialize in end-to-end mobile app development. We believe this is the best way to bring your ideas to life and to deliver the best value for our clients.
What Do Users Look For in a Mobile App?
Clearly, mobile apps are big business. For organizations of any size, a great mobile app is a way of connecting with customers on a platform that goes with them almost everywhere. But what do users look for in a mobile app, and what are some of the common pitfalls to avoid?
A good mobile app will address a compelling need.

This can include making information accessible on-the-go, creating a more direct connection with your team or otherwise streamlining their experience with your organization and making their lives easier.

A good mobile app will be responsive.

More than perhaps any platform, the mobile experience should be intuitive and easy to use. Errors, confusing layouts or other design and technical issues will instantly turn a user off and quickly relegate your app to the trash.

A good mobile app will be compact.

Your app is competing for memory with countless others — a product that takes up less space, while remaining fast and easy-to-use, is more likely to stick around and see use on a regular basis.
Ultimately, every great app begins with a great idea. Our role at Wve Labs is to turn that idea into a workable finished product that meets the above requirements.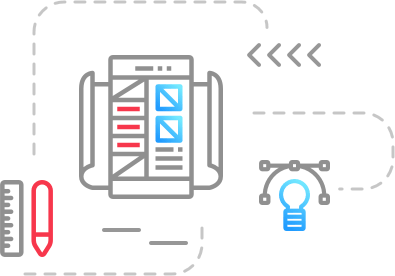 Meet Wve Labs Mobile App Design Team
Expertise
When it comes to application UI design, we employ a suite of sophisticated, up-to-date tools, including Swift, Objective-C, Kotlin, Android Studio and more. What's more, we know how to use these tools to support the broader aims of a project. Creative vision backed by technical expertise — that's the Wve Labs difference.
Personalization
From the start of a project to the final launch and beyond, you'll receive individualized attention from our team. With the resources of a large firm, but the personalized touch of a boutique mobile app design shop, we are an ideal partner for medium to large-sized businesses, as well as startup organizations and entrepreneurs looking to make an impact.
Find out how we can help you by getting in touch with us online today.